Let's Reset Recycling
The Grey District Council is preparing its residents for a recycling reset. The changes will start to be rolled out in November 2021, with all changes in place by July 2022. You can read about the changes in full below.
Introduction of a Glass Recycling Crate
Council is introducing a crate for glass recycling. The new blue crates will begin being rolled out in November 2021 with the service commencing the week of 6 December 2021. Initially, this service will only be available to residents who currently have wheelie bins. Glass crates will be rolled out to existing bag collection customers along with wheelie bins in mid 2022. The glass crates will be collected on the same day as your yellow wheelie bin.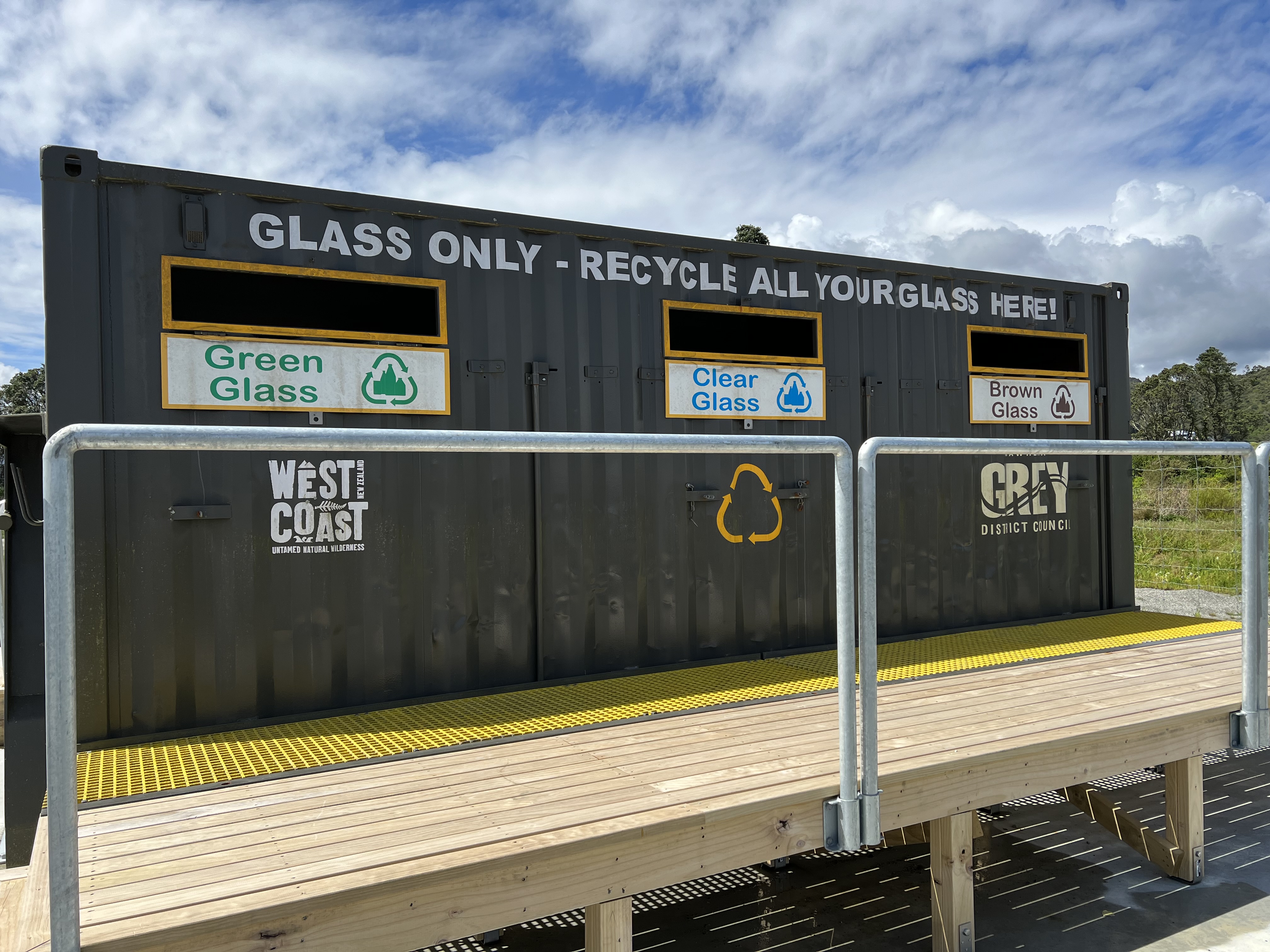 Changes to Types of Plastics Recycled
From 6 December 2021, Council will move to recycling only plastics numbered 1, 2 and 5. The change in plastic collection is being made to align with New Zealand's commitment to move away from using hard-to-recycle, low value plastics. These are commonly processed overseas and contribute to the problematic international trade in plastic waste. You can follow these three simple steps to make sure your plastic recycling is right:
Look
Check for a number on your plastic item -
No number? This is unable to be recycled and should be placed in your red bin.
Number 3, 4, 6 or 7? This is unable to be recycled and should be placed in your red bin.
Number 1, 2 or 5? Great! Ready to recycle!
Prepare
Empty out any contents and give it a good rinse.
Remove ALL lids, trigger sprays or pumps. These need to go in your red bin, or see if you can find some creative use for them!
Recycle!
Place your yellow bin out at the kerbside before 7am on the day of collection, away from trees, power poles and parked cars.
Plastics with numbers 3, 4, 6 and 7 will need to be put in your red wheelie bin from 6 December 2021.
Council is working towards the rebuild of the recycling material sorting facility that was destroyed in a fire in late 2020. Our solid waste contractor is rebuilding the sorting equipment at present. Council is expecting this facility to be up and running in early 2022.
Hook Bins
Council is also excited to announce the new Hook Bins which have been installed at Preston Road in Greymouth, these will be open to the public in December 2021. These bins are for residents and visitors to our district to easily recycle glass bottles, cardboard, paper, cans and plastics. Council will be installing more Hook Bins in another location in the future.
Refuse and Recycling Collection
In the 2021-2031 Long Term Plan, Council made changes to the levels of service for the refuse and recycling collection for the district. The changes will mean all users will be moved to a kerbside refuse and recycling collection next year (including Moana, Ruru and Te Kinga). All properties using bag tags will be moved to a yellow bin (recycling), a red bin (rubbish) and a blue crate (glass) commencing July 2022.
Mayor Tania Gibson said "Council are very pleased to be rolling out these changes in our waste management. It is a practical and efficient way where we can contribute to our responsibilities in caring for our environment, minimising waste and ensuring we are doing our bit".
In the coming weeks, Council will have new information uploaded to their website and Facebook page to help residents adjust to the changes. Keep and eye on www.greydc.govt.nz/recycling
Website: www.greydc.govt.nz/|Facebook: www.facebook.com/GreyDC
To view a copy of the flyer that will be delivered with your new crate, please click here.