Key Information
Information about using the Port

Updated 26 March 2019
The East Cardinal mark at the Lagoon entrance has now been removed permanently from the entrance to the lagoon following approval from Maritime NZ. We recommend vessels entering or exiting the Port use the eastern side of the channel.
Also, following feedback received, staff have painted the front day lead triangle yellow.
Location
Latitude 42 27 mins South
Longitude 171 11 mins East
Greymouth harbour and approaches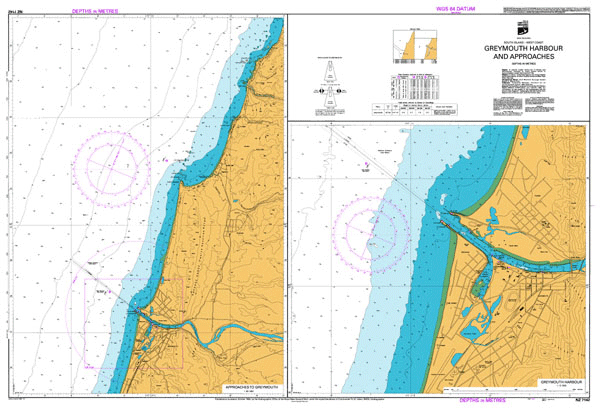 Sourced from Land Information New Zealand data - Crown Copyright Reserved
Please go to the LINZ website for further detail.
Conversion chart - KM to NM
KM to NM conversion chart (PDF, 27KB)
Tides
Tidal information can be found in the following locations:
Quick reference tidal height conversion chart (PDF, 45KB)
Soundings
The latest soundings of the Grey Bar were done on 19 February 2019 and can be viewed by clicking the relevant link below.
Port Soundings - 19 February 2019 (PDF, 753KB)
Please also refer to the lagoon and lagoon entrance soundings last carried out on 29 June 2017.
Lagoon soundings - 29 June 2017 (PDF, 136KB)
Use of car lights when approaching the breakwaters
Motorists travelling to the Blaketown or Cobden breakwaters at night are asked to please dip their headlights and then switch them off once at the breakwaters. This helps prevent confusion for skippers using the Port navigation lights to safely enter the Port.
Useful links