Kerbside Bin Collection
Kerbside recycling is carried out in the greater Greymouth area. This area includes central Greymouth, the CBD, Cobden, Blaketown, Karoro and South Beach.
It operates on an alternating weekly basis, ie one week you will put out your REFUSE wheelie bin and the following week you will put out your RECYCLING wheelie bin. See the collection days section to find out when to put your bins out.
TWO wheelie bins were issued to each property on the collection route: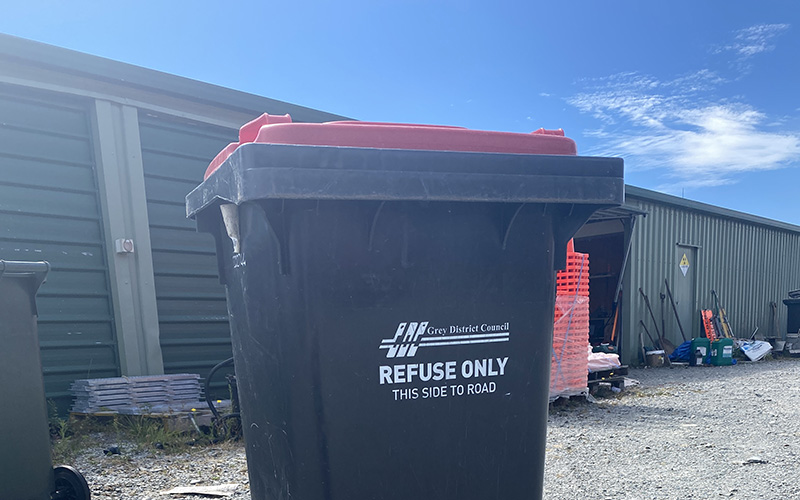 1 x 120 litre bin for REFUSE (red lid)
(equivalent to approximately TWO AND A HALF standard refuse bags)
1 x 240 litre bin for RECYCLING (yellow lid)
(equivalent to approximately FIVE standard refuse bags)
These wheelie bins are specific to the property and will have a property identifier stamped onto each bin.
Note: If you have leftover yellow or white ties, you can still use these by putting them on refuse bags and taking the bags to McLeans Pit Landfill for dumping free of charge.
Collection time
Refuse and recycling bins should be put by 7am on collection day to ensure they are collected/emptied.
Important conditions
Bins must not be over-filled and the lids must be closed.
If you are on the kerbside bin collection, bags will not be collected. If you've got additional rubbish, you can dispose of it free of charge at McLean's Landfill in a rubbish bag provided it has a Council tie on it (ties can be purchased from Council offices).