The Governments Proposal – what we know so far
The Government is proposing that three water services move from 67 councils into four large entities. The Grey District would form part of the South Islands Entity D, Grey District Councils three waters infrastructure would be operated by this entity on behalf of the Grey District community. Each entity would be independent and required to provide safe, reliable and efficient water services. In order to achieve this, the entities will require legislative powers, functions and responsibilities to fulfil their purpose and objectives.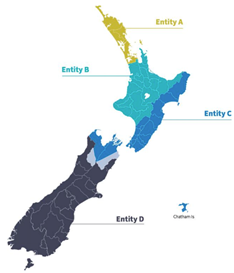 To summarise the Government has advised that they want to deliver a water services more cost-effectively, in an equitable and sustainable way. They propose changing the system as follows:
A new water regulator called Taumata Arowai (Water Services Bill in progress)
Four large water service Entities
Water services delivered on a significantly larger scale
Water entities remain publicly owned
Water services provides meet standards or face penalties
Entities have strong links to Councils and Mana Whenua.
(Independent from the 67 Councils)